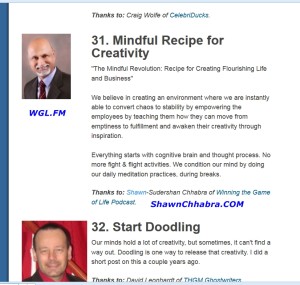 "The Mindful Revolution: Recipe for Creating Flourishing Life and Business"
We believe in creating an environment where we are instantly able to convert chaos to stability by empowering the employees by teaching them how they can move from emptiness to fulfillment and awaken their creativity through inspiration.
Everything starts with cognitive brain and thought process. No more fight & flight activities. We condition our mind by doing our daily meditation practices, during breaks.
http://www.carolroth.com/blog/100-ways-to-spark-creativity-when-youre-in-a-rut/